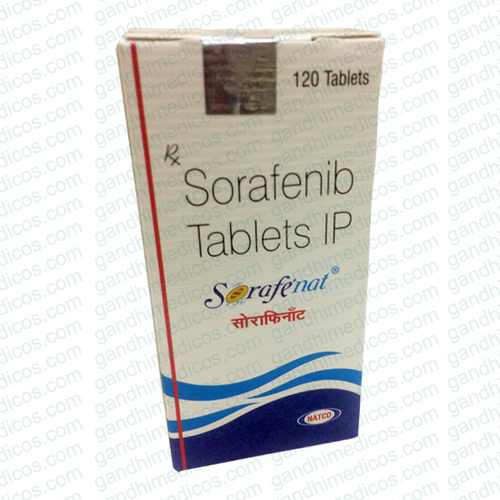 Sorafenat (Sorafenib)
Product Description
What is Sorafenib for:
This medication is a kinase inhibitor, prescribed for renal cell carcinoma (kidney cancer), hepatocellular carcinoma (liver cancer). It decreases tumor growth and replication.
How does Sorafenib work:
Sorafenib harms cancer cells causing their death.
How should Sorafenib be used:
It comes as a tablet to take by mouth, two times per day on an empty stomach. Adult- PO- The recommended dose is 400 mg (two 200 mg tablets) twice daily.
Common side effects of Sorafenib :
Low white blood cell count or low platelet count. Feeling tired or weak. High blood pressure. Upset stomach or throwing up. Many small meals, good mouth care, sucking hard, sugar-free candy, or chewing sugar-free gum may help. Loose stools (diarrhea). Hair loss. Hair most often grows back when this drug is stopped. Not hungry. Bleeding problems. Itching. Weight loss. Belly pain. Muscle pain. Rash. Heart disease may rarely happen. Holes in the GI (gastrointestinal) tract may rarely happen.
What do I do if I miss a dose
Take a missed dose as soon as you think about it. If it is close to the time for your next dose, skip the missed dose and go back to your normal time. Do not take 2 doses at the same time or extra doses.
What precautions should I take when taking Sorafenib :
If you have an allergy to sorafenib or any other part of this drug. Tell your doctor if you are allergic to any drugs. Make sure to tell about the allergy and what signs you had. This includes telling about rash; hives; itching; shortness of breath; wheezing; cough; swelling of face, lips, tongue, or throat; or any other signs. If you are pregnant or may be pregnant. If you are breast-feeding.
When do I need to seek medical help
If you think there was an overdose, call your local poison control center or ER right away. Signs of a very bad reaction to the drug. These include wheezing; chest tightness; fever; itching; bad cough; blue or gray skin color; seizures; or swelling of face, lips, tongue, or throat. Signs of infection. These include a fever of 100.5°F (38°C) or higher, chills, very bad sore throat, ear or sinus pain, cough, more sputum or change in color of sputum, pain with passing urine, mouth sores, wound that will not heal, or anal itching or pain. Change in thinking clearly and with logic. Sudden change in eyesight. A fast heartbeat. Chest pain or pressure. Very bad headache. Very bad belly pain. Very upset stomach or throwing up. Very loose stools (diarrhea). Very bad swelling or pain of hands or feet. Any bruising or bleeding. Feeling very tired or weak. Numbness or tingling in your hands or feet. Any rash. Side effect or health problem is not better or you are feeling worse.


Trade Information
Letter of Credit (L/C)

100 Box Per Week
5-10 Days

Australia, Central America, North America, South America, Eastern Europe, Western Europe, Middle East, Africa, Asia
Contact Us
16/8, Old Rajinder Nagar, New Delhi, Delhi, 110060, India
Phone :+918037301152