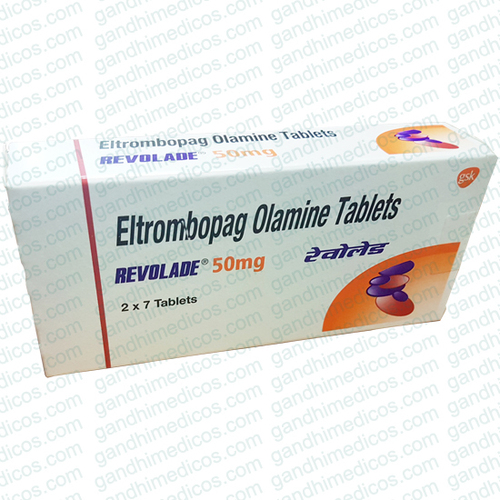 Revolade 50 mg
Price And Quantity
Product Specifications
Chronic Idiopathic Thrombocytopenia

Suitable For All Ages, Women, Adult, Children, Infants
Product Description
What is in this leaflet:
This leaflet answers some common questions about REVOLADE.
It does not contain all the available information. It does not take the place of talking to your doctor or pharmacist.
The information in this leaflet was last updated on the date listed on the final page. More recent information on the medicine may be available.
You should ensure that you speak to your pharmacist or doctor to obtain the most up to date information on the medicine. You can also download the most up to date leaflet from www.novartis.com.au. Those updates may contain important information about the medicine and its use of which you should be aware.
All medicines have risks and benefits. Your doctor has weighed the risks of you taking REVOLADE against the benefits they expect it will have for you.
If you have any concerns about taking this medicine or giving it to your child, ask your doctor or pharmacist.
Keep this leaflet with the medicine. You may need to read it again.

What REVOLADE is used for

REVOLADE is a medicine that is used to treat a number of conditions.
Low platelet count
This is a bleeding disorder known as idiopathic thrombocytopenic purpura (ITP). Patients with ITP may suffer from an increased risk of bleeding. The symptoms of ITP may include:
Pinpoint sized flat round red spots under the skin (petechiae)
Bruising (purpura)
Nosebleeds
Bleeding gums
Not being able to control bleeding, if cuts or injuries occur.
REVOLADE helps to increase the number of platelets, a type of blood cell that helps to reduce or prevent bleeding.
Hepatitis C virus
Many patients with HCV have low platelet counts (thrombocytopenia), not only as a result of the disease but also due to some of the medicines that are used to treat the disease.
The use of REVOLADE to increase and maintain the platelet count prior to and throughout antiviral treatment of HCV infection gives patients a better opportunity to maintain the optimal the dose and duration of their antiviral therapy.
Severe aplastic anaemia
Severe aplastic anaemia, or SAA, is a blood disorder in which the bone marrow does not make enough blood cells, especially red and white blood cells and platelets. Red blood cells carry oxygen to tissues in the body. White blood cells fight infection and disease. Platelets help blood to clot.
The low number of blood cells puts a patient with this condition at risk of tiredness, infections, and bleeding. REVOLADE may be used to treat patients with these low blood counts.
Trade Information
Letter of Credit (L/C)

100 Box Per Week
5-10 Days

Asia, Australia, Central America, North America, South America, Eastern Europe, Western Europe, Middle East, Africa
Contact Us
16/8, Old Rajinder Nagar, New Delhi, Delhi, 110060, India
Phone :+918037301152