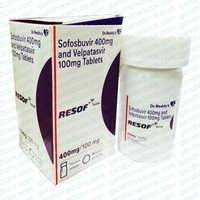 Resof Total
Product Description
WHAT IS RESOF TOTAL?
Resof Total medication is a combination of sofosbuvir and velpatasvir. This drug work by reducing the amount of hepatitis C virus in your body, which helps your immune system fight the infection and may help your liver recover.
MEDICINE USES :
Dr. Reddy's Laboratories Limited Sofosbuvir and Velpatasvir is used to treat chronic (long-lasting) hepatitis C, a viral infection of the liver. It may sometimes be used with another antiviral medication (ribavirin).
SOFOSBUVIR VELPATASVIR COMMON SIDE EFFECTS :
Common Resof Total side effects may include:
headache;
tired feeling;
nausea, diarrhea; or
sleep problems (insomnia).
Call your doctor at once if you have:
slow heartbeats;
weak or shallow breathing; or
low red blood cells-pale skin, weakness, rapid heart rate, trouble concentrating.
If you also take amiodarone: Seek medical help right away if you feel weak, tired, or light-headed, or if you have chest pain, shortness of breath, confusion, or memory problems.
This is not a complete list of side effects and others may occur. Call your doctor for medical advice about side effects.
Brand Name : Resof Total
Active Ingredients : Sofosbuvir Velpatasvir
Marketed by : Dr. Reddy's Laboratories Limited
Form : Tablets
Strength : Sofosbuvir 400mg and Velpatasvir 100mg
Packing : Pack of 28 Tablets
Contact Us
16/8, Old Rajinder Nagar, New Delhi, Delhi, 110060, India
Phone :91-11-45007207